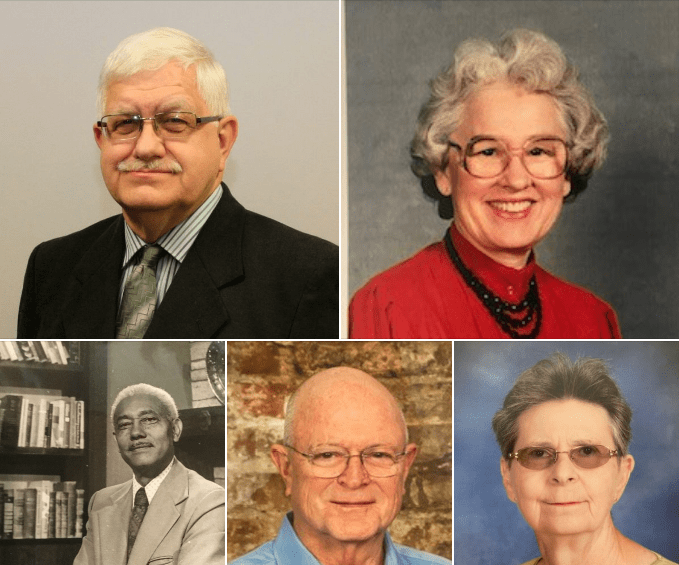 Five people are inducted into the Todd County High Schools Hall of Fame.
The new class consists of Arthur W. Green, Mattie Knight Sanders, Frank Burnett Simpson, Dr. William Weathers and Carolyn Wells.
Ryan Craig, editor of the Todd County Standard, said nominations have been publicly solicited this year and for the past two years due to COVID.
Click here to download audioArthur Green holds a degree in Agricultural Education from Murray State University. He began teaching agriculture at Todd County Central High School in 1973. During his 33-year education, he represented teachers at the local, state, and national levels as a member, district president, and board member.
He served six terms on the Elkton City Council, was Chief Justice of Todd County, Chairman of the Todd County Board of Health and the Todd County Board of Aging, and is the current Mayor of Elkton.
Mattie Knight Sanders received his Bachelors of Science from Austin Peay State University and his Masters of Arts from Western Kentucky University. She began her teaching career in 1961 at Elkton Elementary. The following year she transferred to Guthrie Elementary School and stayed there for 26 years before retiring in 1988.
She has supported the National Audubon Society, Nature Conservancy, and the World Wildlife Fund, and has been a member of the national, state, and regional educational associations and the Kentucky Retired Teachers.
Frank Burnett Simpson received his Bachelor of Science degree in Agriculture from Kentucky State University before serving in the US Army for 4 years.
His career began as the principal of Todd County Training High School and then Attucks High School in Hopkinsville for a total of 21 years.
He was Assistant Superintendent of the Hopkinsville Independent and Jefferson County School Systems. He later became the first black superintendent of the Jefferson County school system.
He was also a member of the Governor's Commission on Higher Education.
dr William Weathers served in the US Naval Reserve and earned a bachelor's degree in theater arts and a master's degree in speech while at Western Kentucky University.
He taught at African-American Paine College in Georgia before turning to his love of writing. He later spent more than 21 years at the Kentucky/Cincinnati Post newspaper.
Through his love of music, Bill and his wife Jackie founded Elk Fork Strings and ran Covington Youth Strings to help children play the violin.
Carolyn Wells attended Elkton Elementary and graduated from Todd County Central High School in 1968. After graduating from Austin Peay State University, she taught English at Todd County Central High School.
Wells was an author of the high school's newsletter and was honored as Jaycee's Outstanding Young Educator, Rotary Club Teacher of the Year, Bryan W. Blount Citizen of the Year in 2020, and a charter member of the Todd Central Alumni Association.
She has authored both "T is for Todd County" and "Notables of Todd County" to help rehabilitate Todd County's historic landmarks.
The winners or their families will receive the awards at an event early next year.