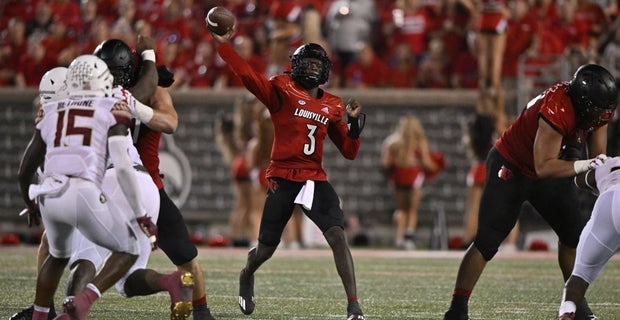 Louisville's offensive led by offensive coordinator Lance Taylor ranks 48th in the country with an average of 413.8 yards per game and 67th with an average of 28.5 points per game.
Malik Cunningham is the Cardinals' starting quarterback, but his status for Saturday's game is still listed as "daily," according to Satterfield. Cunningham, who completed 62.7 percent of his passes for 1,552 yards, eight touchdowns and four interceptions while adding 561 yards and 11 touchdowns on the ground, missed the game against NC State last week with a shoulder injury.
Brock Domann started in his place and led the Cardinals to victory despite completing just 48.0 percent of his passes for 153 yards and scoring no points.
Domann has never played against Kentucky. If Cunningham plays, he will make his fourth career start against the Wildcats. He is 3-0 in the starting XI for the Cardinals in the Governor's Cup.
"You're looking at Malik (Cunningham). And I don't know if he will play or not. Both quarterbacks are playing really well — Brock (Domann) and Malik," Stoops said. "But Malik always has this threat. It's not just the designed runs, it's also about getting off the schedule and creating plays, whether it's in the passing game or the running game.
"We have to prepare for Malik. And they do the same with Brock as far as some of the quarterback run game was designed. Just with the zone read keeps and the gun runs things you have to be prepared. Obviously I think Malik is a dynamic runner. We get that. And that's more off-schedule things – descending, climbing, pass game lanes, all that stuff. But we have to prepare for both."
Overall, the Cardinals rank 86th in the country in passing attack, averaging 217.7 yards per game through the air.
Tyler Hudson is Louisville's favorite receiver, leading the cards and ranking second in the ACC with 951 receiving yards. He ranks third in the conference with 63 receptions but has only one receiving touchdown this year.
Close end Marshall Ford added 28 grabs for 392 yards and two touchdowns this season while at wide receiver Ahmari Huggins Bruce has 29 catches for 365 yards and two touchdowns.
The Cardinals' running game ranks 30th in America at an average of 196.1 yards per game. Cunningham is the team's leading rusher, but he runs back Jahar Jordan is averaging 5.0 yards per attempt and has rushed for 555 yards and two touchdowns this season. Tiyon Evansa transfer from Tennessee, has added 525 rushing yards, averages 6.3 yards per attempt and has six rushing touchdowns.
Louisville's offensive line did a great job on blocking but has been up and down on pass protection. The unit has conceded 22 sacks this season, which is good for an average of two sacks per game.
Offensive Depth Chart:
quarterback
3 – Malik Cunningham (6-1, 190, Sr.)
19 – Brock Domann (6-2, 227, Jr.)
Back race
7 – Tiyon Evans (5-11, 213, Jr.)
25 – Jahar Jordan (5-10, 174, Sun.)
20 – Moritz Turner (5-10, 180, Fr.)
runner
5 – Marshall Ford (6-2, 218, Jr.)
45 – Duane Martin (6-2, 260, Sun.)
41 – Isaac Martin (6-1, 250, Sr.)
wide receiver
0 – Tyler Hudson (6-2, 195, Sr.)
88 – Jaelin Carter (6-2, 202, Sr.)
86 – Elijah Downing (6-3, 199, Fr.)
wide receiver
9 – Ahmari Huggins Bruce (5-10, 166, Sun.)
OR
4 – Brad Smith (5-10, 180, Sr.)
wide receiver
9 – Ahmari Huggins Bruce (5-10, 163, Sun.)
80 – Chris Bell (6-2, 220, Fr.)
Close end
84 – Dec Melton (6-3, 243, Sun.)
OR
44 – Francis Sherman (6-3, 233, Sun.)
Left tackle
70 – Trevor Reid (6-5, 305, Sr.)
68 – Michael Gonzales (6-4, 303, Sun.)
Left guard
55 – Caleb Chandler (6-4, 295, Sr.)
67 – Luke Kandra (6-4, 315, Sun.)
center
61 – Bryan Hudson (6-4, 301, Jr.)
51 – AustinCollins (6-3, 290, Sun.)
Right Guard
74 – Adonis Boone (6-5, 294, Sr.)
71 – Joshua Black (6-2, 294, Sun.)
Get it right
56 – Renato Braun (6-4, 311, Sun.)
68 – Michael Gonzales (6-4, 303, Sun.)