Melissa Rice is currently in her eighth season with the Camden Hunt in Camden, South Carolina as a professional hunter and she has found gold with Top Striker, her current mount. Striker, a mahogany Thoroughbred, revels in its third iteration—first as a flat racehorse, then as a steeplechase horse, now as a hunter mount.
The now 13-year-old "Striker" had a stellar year in 2016, winning the $150,000 Marion duPont Scott Colonial Cup Grade 1 Hurdle Stakes (South Carolina) and the $75,000 Zeke Ferguson Grade 2 Memorial Handicap at the International Gold Cup (Virginia). He missed 2015 due to injury, but also won the $50,000 AFLAC Supreme Novice Hurdle Stakes at Callaway Gardens, Georgia, and the $50,000 Carolina Cup Hurdle (South Carolina) in 2014. He earned $341,954 in his 27 starts with nine wins.
Slight tendon and ligament injuries had plagued Striker (Van Nistelrooy – Two's Cozy, Cozzene) throughout his racing career. After winning the Colonial Cup in a convincing 101⁄2-long romp, his tendon problems flared up again, so his Camden-based trainer, Arch Kingsley Jr., and his owner, Sue Sensor, decided to retire him . Sensor, the Camden Hunt's senior joint MFH, hoped the winner of her assignment could find a new life with the hunt.
"Striker spent between eight and 10 months on the farm recovering from a minor tendon injury," Rice said, "and we spent the summer learning more about the dogs and the ins and outs of being a service horse."
Kingsley's training facility borders Camden Hunt Country, so Striker was familiar with the trails through the hardwood forests, pine forests, and swamps of the Carolinas' Sandhills region. Rice said they have to teach him to chop quietly and learn to ride from the ground, since staff need to be able to get in and out to clear debris that might block the trails.
"It's been a long, hot summer that got him refocusing," Rice said. "We had to encourage him to learn the scent of roses."
According to Rice, the biggest hurdle in introducing a horse to the world of hunters is usually developing a tolerance towards the hounds, since the hunter is responsible for controlling and leading the pack. But Striker showed an affinity for them from day one.
"A hunter must love the hounds. They crowd around the hunter and smack the horse's legs and occasionally swing its tail off," she said, laughing. "You don't want a horse that has a 'hey, get away from me' attitude."
Striker, Sensor said of her 2016 Eclipse Award finalist, befriended the dogs even as he recovered from his injury. While he was training the dogs, the staff purposely led them past his paddock, and they ducked under the fence and attacked him.
"He really loved the dogs from the start," Sensor said. "He would go nose to nose with them every day."
Now entering his third hunting season, Striker has developed such a good bond with the hounds that "he will listen to the hounds and correct me if I'm wrong," Rice said.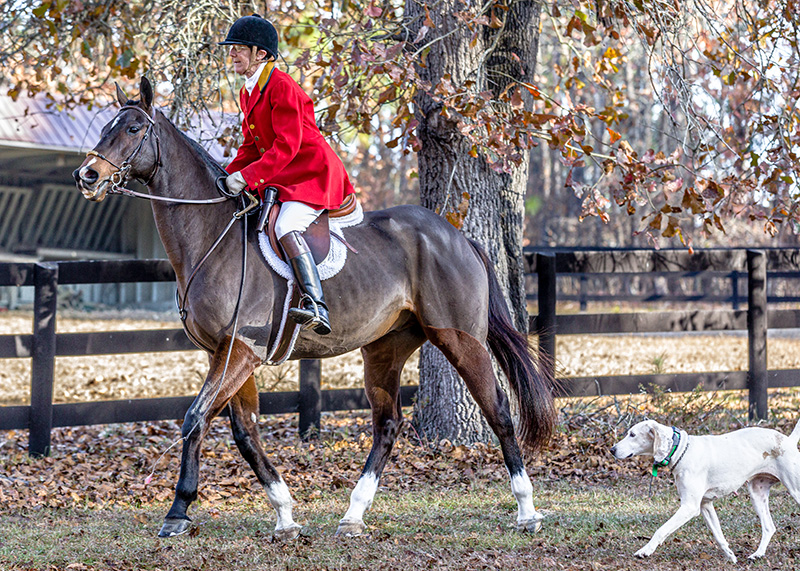 Once Striker's basic hunter horse training was solidified, Rice had to address a common problem in redirecting ex-racehorses: getting the horse out of racing mode, especially when riding out with a pack of other horses. But Rice has the advantage as a hunter that she is at the top and only the dogs are ahead of her.
"It takes away a lot of problems," she said. "Also, Camden hunting ground is closed country with long, fairly narrow paths that are basically like one-way streets. We have to drive one behind the other and I'm always in front, that makes it much easier to manage."
Though she makes it seem easy to adapt Striker to a slower life than a racehorse life, Rice admitted to a few incidents where she definitely "should have been cited for going too fast for the conditions."
He also has a few quirks that bring some laughs from Rice's occasional white-knuckle moments and her staff and members of the hunt field. "He loves to occasionally transform into a Lipizzaner after landing after a jump. He can caper with the best of them," she said.
The key to getting along with Striker is appreciating him, Kingsley said. "He has a very distinct personality. He is a very stubborn, intelligent and expressive horse. He's very proud of himself. If he were human you would call him vain, but he has every right to think highly of himself. He is something special."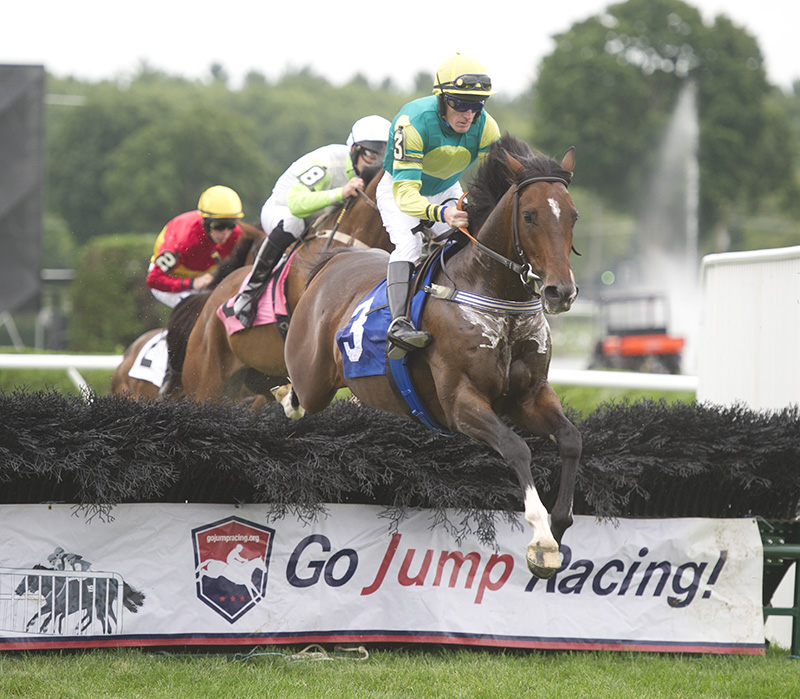 Rice said she gets along with him because she appreciates him and does things the way he wants.
"I'm not stubborn with him," she said. "He is very easy in the stable, but also very experienced. If A happens, B should happen next, and he gets a little upset if you try to make B happen first."
"He would definitely sulk if things didn't go his way," Kingsley said. "Striker was such a powerhouse [in my barn], but he was like a perishable rose. So beautiful, such a life force, but his ego was so fragile."
All of the catering that Kingsley and Rice have done for Striker is a matter of "he coaching us the same way we coach him," Kingsley added.
But in the end, it's all worth it, Rice said. "The feeling that this horse gives you when you canter behind the dogs is the most certain and consistent feeling that you're going to get there at the end of the day, and maybe a little bit after the end of the day," she said. "He never gave up on me. He would walk through fire to get dogs."
---
This article appeared in The Chronicle of the Horse in our November 21-28, 2022 issue. Subscribers can choose online access to a digital version or a print subscription, or both, and will also receive our lifestyle publication, Untacked.
If you only follow COTH online, you're missing out on so much great, unique content. Each print issue of The Chronicle is packed with in-depth competition news, fascinating reports, powerful insights into topics in the sports of hunter/jumper, eventing and dressage, and stunning photography.