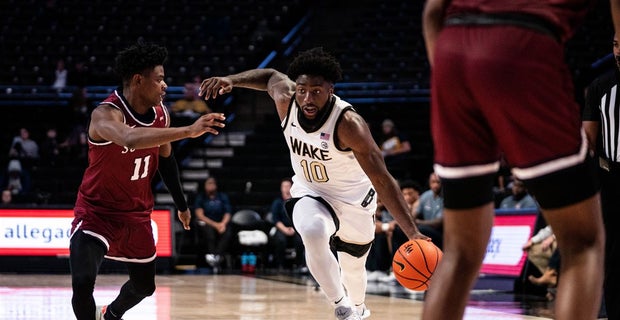 As the Deacs were about to take on South Carolina on Wednesday night, head coach Steve Forbes had one last request for his team before they left the locker room.
"Spit," he told them. "Get that bad taste out of your mouth."
After losing an eight-point lead in the final 90 seconds to an overtime loss to Loyola Marymount in the Jamaica Classic Championship, the team was clearly in need of some kind of catharsis.
"Now let's go play," Forbes told them after they all spat on the dressing room carpet.
The Deacs (5-1) then hit the ground running and finished off a losing group of Bulldogs (0-6) who walked away in a 105-74 win.
"I felt like we needed a game like this," Forbes said. "It was a bit of a doom and gloom. These guys hurt, and rightly so. I hurt them. They did a really good job watching movies, understanding what happened and trying to fix it. There are 31 games, so you have to have a short memory."
"It wasn't something I rehearsed," Forbes said of his dressing room speech. "It just occurred to me. I think they were pretty excited when they left the dressing room."
Six Deacs hit in double digits, led by 19 points by sophomore guard Cam Hildreth, who went 7-for-10 off the field and added eight rebounds.
"Cam did a great job of giving us a great start on offense," Forbes said. "He was very aggressive when dribbling, coming to the basket and making plays for himself and for others."
Freshman Wings Bobi Klintman finished with 15 points and 10 boards.
"Bobi came off the bench for a double-double," Forbes said. "We thought this was a game where Bobi could really get on the glass and I thought he did really well."
Wake Forest played a little shorthanded on Wednesday, with senior guard starting David Williamson out with back pain. wing Damari Monsanto and Andrew Carr played by illness.
"Daivien is day-to-day," Forbes said. "I think he improved today. Back problems are painful. He got injured playing in Utah Valley, he's that tough. He didn't train on Saturday because he couldn't even move. He's a tough kid. I don't know if he will play on Saturday or not. But hopefully we'll have him for Tuesday when we go to Wisconsin."
Marist Transfer Guard Jao Ituka got his first action of the season coming on from the bench after a lingering knee injury from the preseason. He scored 10 points and dished out three assists while making a perfect 6-on-6 from the foul stripe.
"It's the first time Jao has played live since we fought at Ohio State," Forbes said. "It honors him for the things he did tonight. It was great to have him back out there too."
Despite illness, Monsanto got the start and scored 16 points while hitting 4 of 8 from behind the arc.
"He's hit 11 threes in the last three games and we need that," Forbes said. "Damari is a good size and we need him to recover as well. He fought. He vomits more than anyone I've ever seen. We need him and I was happy for him in Jamaica. His parents were there and it was probably the first time he had seen them since coming back from his sister's death. I think that was big for him."
Tyree Appleby almost made a double-double himself, scoring 13 points and giving nine assists. Matthew March provided another spark off the bench and scored 10 points while hitting 4-for-5 at the free-throw line.
"They're young guys," Forbes said of his center trio (Marsh, Zach Keller and David Bradford). "I have to give Matt a lot of credit. He missed a couple of big threes against LMU but came back tonight and shot them well. He's really starting to take off well. He's gotten good at the ball screen rim run and the lob. He catches the ball well around the basket.
"DB has really taken off in the last few weeks. He didn't have much time in Jamaica. Zach has started and helped with many different things. It's exciting because these guys are so young. I am happy. Now they have to move on, but I know they will."
The Deacs return to action against Hampton (1-4) on Saturday at 12:30 p.m. at the Joel Coliseum.